Lifestyle
Best films to watch this Halloween!
If like me, you love any excuse to stay in bingeing films, I bet you're so glad Halloween has arrived!

From the light-hearted and spooky comedies to the extremely on-the-edge-of-your-seat scary, here's a rundown of my favourites...
5. Hocus Pocus
OK, not an overly scary movie but takes me back to my childhood. It was terrifying when I was a kid though, now it's just super funny and can we watched all year round. They're the sort of witches you want to be friends with and don't get me started on the music!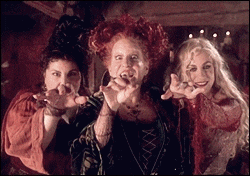 4. Ghostbusters (2016)
I'm a massive fan of the original film so I was sceptical when it came to watching the remake. However, I felt the all-girl lead roles and the CGI gave it an edge. The scariest moment for me is when the mannequin comes alive backstage at the gig. Again, I watch it all year round, not just at Halloween!
3. The Cabin in the Woods
If you want to be really scared this Halloween, this is one of the best to watch. The Cabin in the Woods starts how most good horror films do - 5 friends venture out and arrive at a creepy cabin and come across some pretty terrifying stuff. Think jumpy moments, masks, zombies, clowns - what every great Halloween movie has.
2. Village of the Damned (1964)
If you don't know this CLASSIC film, after a 'supernatural occurrence' knocks everyone in one village unconscious, they wake up to find every woman of childbearing age is pregnant, giving birth to children who possess supernatural powers. Creepy!
1. The Woman in Black
I'm a huge fan of the supernatural sub-genre of horror, so this is ideal for me. I love the special effects and how (scarily) real the ghost seems and like the use of suspense and flashbacks as it comes to the history of the house. Plus, everyone loves Daniel Radcliffe, right?
Now all you have to do is decide what snacks you'll have during your movie marathon. Happy Halloween!
Topics