Local
GlasgowGuide: The Dear Green Parks
Anytime is a great time to explore Glasgow's wonderful parks, don't you think?
It's not all about barbecues and sunbathing, parks are for cooler days too! Here is a quick guide to some of the city's amazing parks.
Let's start with our very own Kelvingrove Park, right next to Campus.
Have you walked up to the Park Circus side? Go up and you'll get a cool view of the University's Main Building.
In case you haven't noticed yet, there is a pretty big art gallery and museum which houses one of Europe's great art collections. Entry is free!
You can get active in the park too! Tennis courts and a skate park are just some of the sport facilities available. Walkers can go for a wander along the river Kelvin which runs through the park and can see if they spot some exotic wildlife :)
Have that 'escape to the tropics' feeling? No need to cross the ocean, head to the Botanics' glasshouses and you'll feel like wandering through Amazonia.
Go for a walk along the arboretum to enjoy weird exotic trees and chill out at the magnificent Kibble Palace, which was heroically moved from the shores of Loch Long and reassembled piece by piece in Glasgow for your enjoyment.
Let's get to the point here. What makes this park pretty special is its fossilised grove of prehistoric trees, twice as old as the dinosaurs - Glasgow's most ancient attraction.

Located within minutes of the bustling city centre, Glasgow Green is the home of the city's social history museum, the People's Palace. After learning all about the weegies, you can relax at the cosy winter gardens with a cuppa.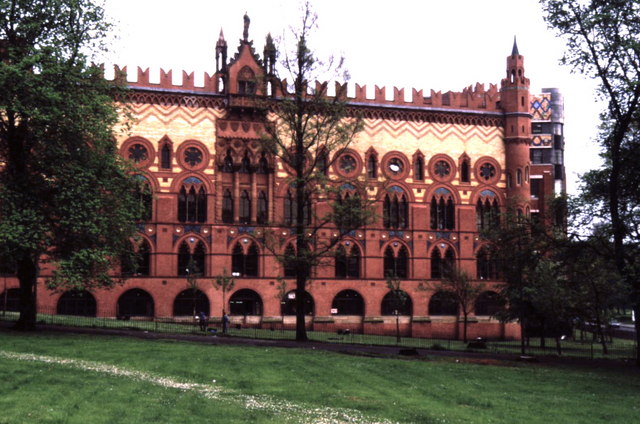 The most stunning feature around Glasgow Green is probably the Templeton building. Its façade resembles the designs of a Venetian palace and it was originally built to house a carpet factory. There is a German microbrewery and restaurant on the ground floor with a great garden to enjoy the sunshine!
The park is the setting for House for an Art Lover. The house was built following original designs from Charles Rennie Mackintosh and is now a popular visitor attraction. It has artist studio spaces, a heritage centre and a cool sculpture garden.
For a bit more action, try Glasgow's Ski Centre which opens all year round.
Looking to get a panoramic view of the city's skyline? Head to Queen's Park and climb up to the flagpole, on a clear day you can get a great view of Glasgow and beyond.
Hidden in the park's glasshouse there is a mini zoo with tropical fish, exotic birds and a reptile house.
Lastly, the wildest of the parks!
It is Glasgow's largest park and it features the Burrell Collection and a grand Edwardian country house.
The Burrell Collection offers an impressive selection of Chinese and Northern European art, including tapestries, stained glass and a sculpture courtyard. Entry is free!
If you have desperately tried to get a view of some Highland Cows, this is your place! There are approximately 100 specimens of Highland Cattle here so it's not hard to get a view of them.
Get out and go for a stroll in the park!
Topics