Accommodation
Who are the Living Support Team?
You may have seen some of the Living Support Team at the residences - they're the staff and students in the blue Living Support hoodies.
Your Living Support Team is made up of a Warden, Senior Living Support Assistants (SLSAs) and Living Support Assistants (LSAs). They are current University of Glasgow students just like you, both undergraduate and postgraduate, who live on-site and provide out of hours advice and support to residents.

Senior Living Support Assistants (or SLSAs) manage and are responsible for each shift. They take the lead in difficult incidents, escalating issues to the Warden where necessary, as well as training the Living Support Assistants.
The Warden is responsible for training and running the team, conducting disciplinary meetings, and acts as a bridge between the Living Support Team, the Site Office Team and the University.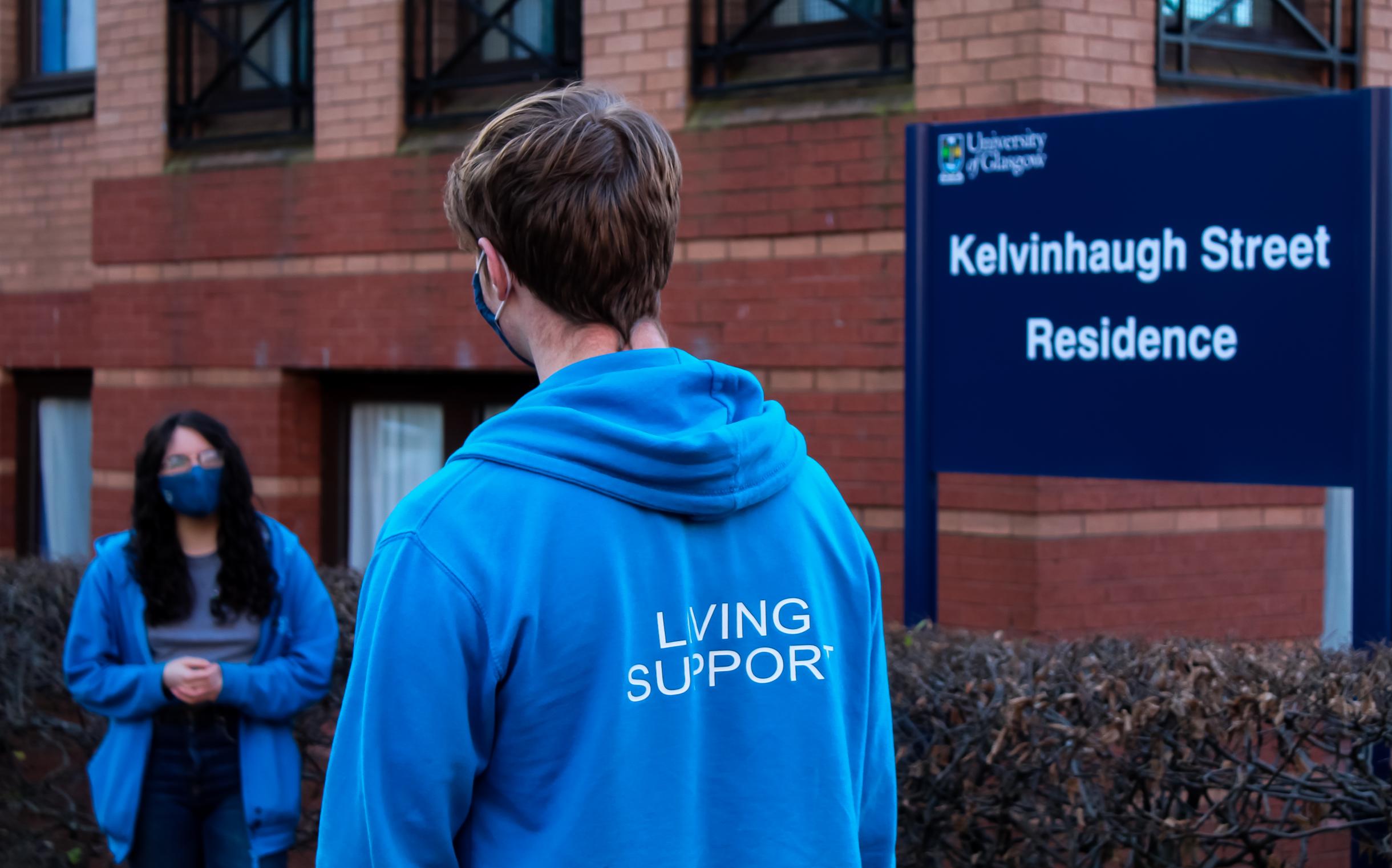 What do the Living Support Team do?
The team are fully trained to help in a wealth of scenarios including:
Settling into university life and independent living,
Getting to know your halls and the local area,
Health concerns, First Aid, Mental Health First aid, and accessing medical help,
Need someone to talk to or feeling homesick,
Course worries, exam stress, and managing a work/life balance,
Noisy neighbours, getting along with flatmates,
Fire safety and responding to fire alarm activations,
Arranging emergency repairs out of hours.
The Living Support Team also organise regular events for you to meet new people, try new things, and experience what Glasgow has to offer. They want you to make the residence your own and shape the activities that take place, so the team are always keen to know your ideas. They're here to host events that you'd like to see as well as support you to create your own socials for residents of the hall.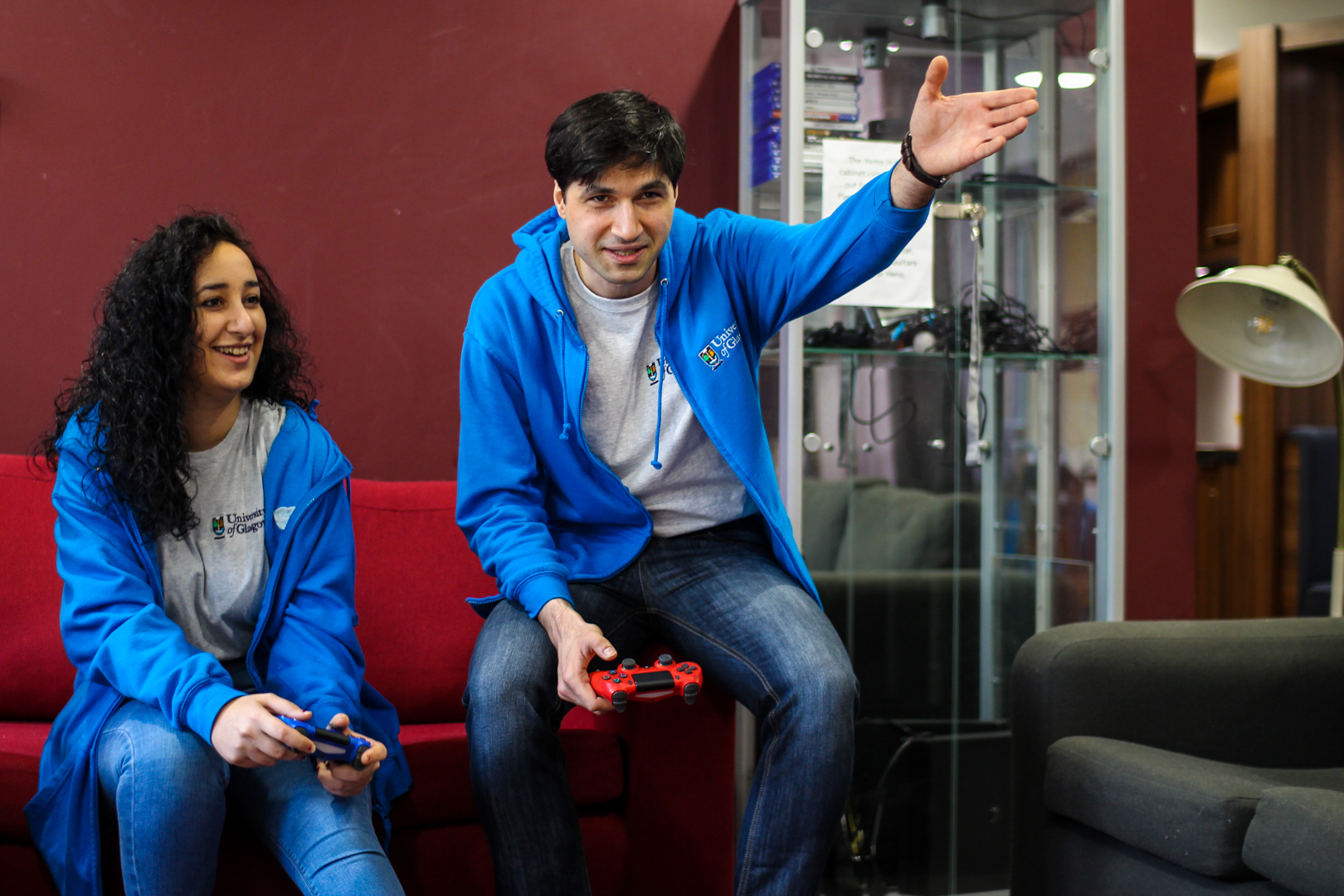 When are the Living Support Team on call?
The Living Support Teams are on duty from 6pm (6:30pm at Student Apartments) to 8am Monday to Friday and 24 hours at weekends. Out with these hours the residence's site office team are on hand to assist.
LSAs work on a rota basis, with the frequency of duties varying from 1 night in 3 at smaller sites, to 1 night in 7 at larger sites. LSAs are permitted to swap like for like shifts between them, making it a great flexible role.
When an LSA is on shift, they typically spend an hour in the site office from 6-7pm and are then 'on-call' from 7pm until the following morning. Weekend duties vary from site to site. When on shift LSAs can spend their time in their flats or communal areas of the residence and between call outs LSAs are free to study, sleep, cook, etc. as long as they can answer their duty phone.
How do I contact the Living Support Team?
The quickest way to reach the team is by phone. Depending on your needs and what you're most comfortable with, you could be offered support over the phone, at your flat or in a safe and private space at the residence such as the office.

If you'd like to speak with the team about something that isn't urgent, you can also visit them in the office from 6-7pm daily or send them an email.
Contact details for the Living Support Team and the Site Management Team can be found here.

This sounds like a role for me. How do I apply?
For more information on the requirements and benefits of the role, as well as how to apply, check out this article.
Topics